Sandy Lake is as unusual as it is beautiful. Sandy Lake offers a serene and picturesque setting for outdoor enthusiasts, nature lovers, and those seeking recreational activities. Whether you're exploring nearby attractions, enjoying water-based activities on the lake, or participating in local events and festivals, Sandy Lake and its surrounding area provide a wonderful experience for residents and visitors alike.
Real Estate Listings
Please wait while we are fetching properties...
Sandy Lake near Buckhorn offers several activities and attractions for visitors to enjoy. Here are some things you can do in and around Sandy Lake:
Water Activities:
Sandy Lake is ideal for water activities such as swimming, boating, kayaking, and canoeing. You can take a dip in the lake's clear waters, rent a boat or kayak, or bring your own watercraft to explore the lake.
Fishing:
Sandy Lake is known for its fishing opportunities. The lake is home to various fish species, including bass, walleye, and panfish. Anglers can try their luck and cast their lines from the shore or go fishing from a boat.
Beach Relaxation:
Sandy Lake features sandy beaches, making it a great place to relax and soak up the sun. Pack a picnic, bring your beach towels, and spend a day lounging on the beach, reading a book, or playing beach games.
Hiking and Nature Exploration:
The surrounding area of Sandy Lake offers opportunities for hiking and exploring nature. You can find trails nearby that wind through forests, offering scenic views of the region's flora and fauna. The Kawartha Highlands Provincial Park, located in the vicinity, provides additional hiking trails and wilderness experiences.
Wildlife Viewing:
Keep an eye out for wildlife while exploring the area. Sandy Lake and its surroundings are home to various bird species, mammals, and other wildlife. Birdwatchers may spot species like herons, ducks, and songbirds, among others.
Local Events and Festivals:
Check for any local events or festivals happening in the Buckhorn area during your visit. The region often hosts cultural events, art festivals, and community celebrations that showcase the local talent and provide entertainment options.
Nearby Attractions:
If you're willing to venture a bit farther from Sandy Lake, you can explore other attractions in the Buckhorn area. Visit the Buckhorn Wildlife Art Festival, browse art galleries, or visit local markets to experience the region's art and culture.
History:
Sandy Lake, like many lakes in the region, has a historical significance tied to the Indigenous communities that have inhabited the area for thousands of years. The Anishinaabe (Ojibwe) people have a long-standing connection with the land and waterways in the region, and Sandy Lake would have played a role in their lives.
Strange tales have been told about it by the Mississagua First Nations, as they huddled in their cabins and listened to the winter winds whistle across the rocky stretches. The stories have lost their punch with the years, but many First Nations still claim "Lake of Spirits" to be a sacred place, where Manitou has given the bass and lunge a silvery armour for protection. The key to most of the legends that have been handed down through the years is a huge heart-shaped rock that lies on the bottom of the lake. On sunny days, the stone glows with the peculiar purplish hue, not unlike the vital organ of man. First Nations claim that on days when the lake is perfectly calm, ripples form about the great stone. These they claim, are pulsations from the heart-shaped stone below. Strength is given to the First Nations legend by the unusual greenish color of the water.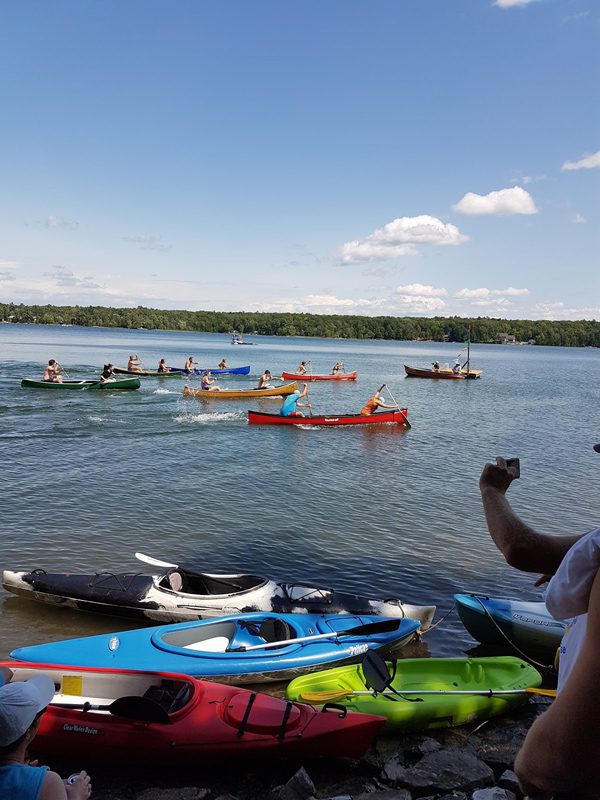 Links and Resource's Specific to Sandy Lake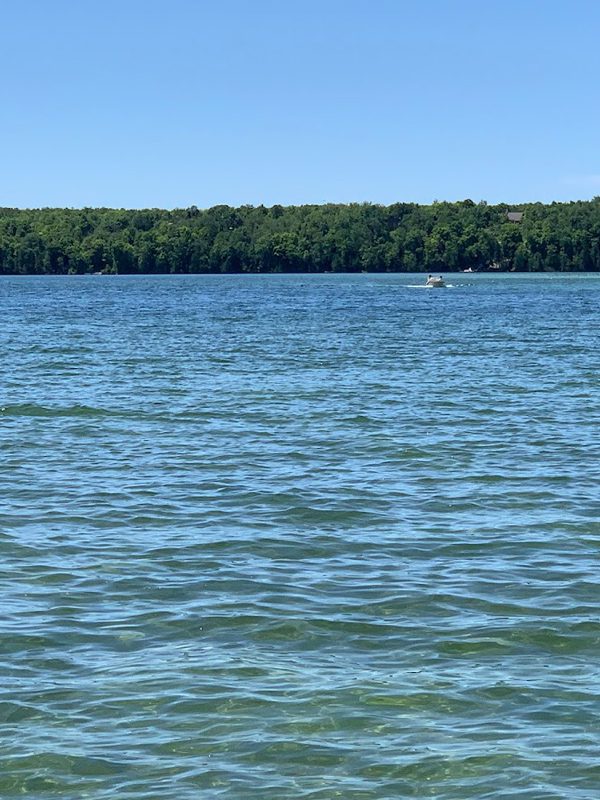 Sandy Lake Google Reviews