Pigeon Lake is a picturesque lake located in the Kawartha Lakes region of Ontario, Canada. It spans an area of approximately 8 square kilometers and is a popular destination for fishing, boating, and other water activities. The lake is surrounded by beautiful cottages and offers stunning natural scenery, making it a serene retreat for visitors and residents alike.
Real Estate Listings
Please wait while we are fetching properties...
There are several activities and attractions to enjoy at Pigeon Lake, Ontario. Here are some suggestions:
Fishing:
Pigeon Lake is known for its excellent fishing opportunities. Grab your fishing gear and try your luck at catching bass, walleye, muskellunge, and other species that inhabit the lake. You can fish from the shore, rent a boat, or hire a local guide for an enhanced fishing experience.
Boating and Water Sports:
Explore the calm waters of Pigeon Lake by renting a boat, kayak, or canoe from one of the local marinas. Enjoy a leisurely cruise, go water skiing, or try paddleboarding. The lake's serene atmosphere makes it ideal for various water sports activities.
Swimming and Beaches:
Pigeon Lake offers several sandy beaches where you can relax and swim in the refreshing waters. Head to the public beach areas such as Emily Provincial Park or resorts with private beaches to enjoy a day by the water.
Hiking and Nature Trails:
Take advantage of the beautiful surroundings and explore the hiking trails near Pigeon Lake. Emily Provincial Park, located on the eastern shore of the lake, offers scenic trails that wind through forests and along the shoreline, allowing you to immerse yourself in nature.
Golfing:
If you're a golf enthusiast, you can tee off at one of the nearby golf courses. There are several courses in the Kawartha Lakes region, offering scenic fairways and challenging holes for players of all skill levels.
Cottage Life and Relaxation:
Pigeon Lake is surrounded by picturesque cottages, making it a perfect destination for a tranquil getaway. Rent a cottage or stay at one of the resorts and enjoy the peaceful ambiance, spend time with loved ones, and soak in the natural beauty.
Local Events and Festivals:
Keep an eye out for local events and festivals happening in and around Pigeon Lake. These may include fishing tournaments, arts and crafts fairs, live music performances, and community gatherings. These events can add an extra layer of enjoyment and entertainment to your visit.
Interesting Facts about Pigeon Lake
PIGEON LAKE is part of the largest body of water in the KAWARTHAS. This lake is unique because it is the only one in the Kawartha chain that has access to six other lakes without having to lock. A boat ride on Pigeon Lake can take you to Little and Big Bald Lakes and
Buckhorn Lake
through Gannons Narrows. From there you can travel to
Chemong Lake
and Upper
Chemong Lake
. Pigeon Lake also touches Bobcaygeon, traveling south as far as Omemee. Pigeon Lake is 17 miles long averaging between 1 and 2 miles wide. The big Island situated in the middle of the lake is its largest island. It has many anchorages for recreational boaters one of the larger lakes in the Kawartha Lakes chain. It is fed by
Sturgeon Lake
to the west, and the Pigeon River to the south, as well as the Bald Lake chain to the north-east. Downstream, it feeds Upper
Buckhorn Lake
through the Gannon's Narrows. Deepest water sounding is 57 feet off Lancaster Point in the north. The southern portion of the lake is very weedy and shallow. The middle section averages 8 to 10 feet, with numerous weed flats. The northern section has limited weed growth, but defined rocky structures and deeper water. In the first half of the fishing season, walleyes are the primary target on this lake; however, in the latter half of the season, this lake receives very heavy muskie pressure, which peaks during the month of September, where muskie anglers outnumber all other anglers. Launching on this lake is done at the public ramp on Riverside Drive on the Big Bob River (downstream from the locks) in Bobcaygeon Its accessibility and its size makes Pigeon Lake a favorite among fishermen and boaters everywhere. The beauty and serenity of the Kawartha Lakes has been attracting people for over a century.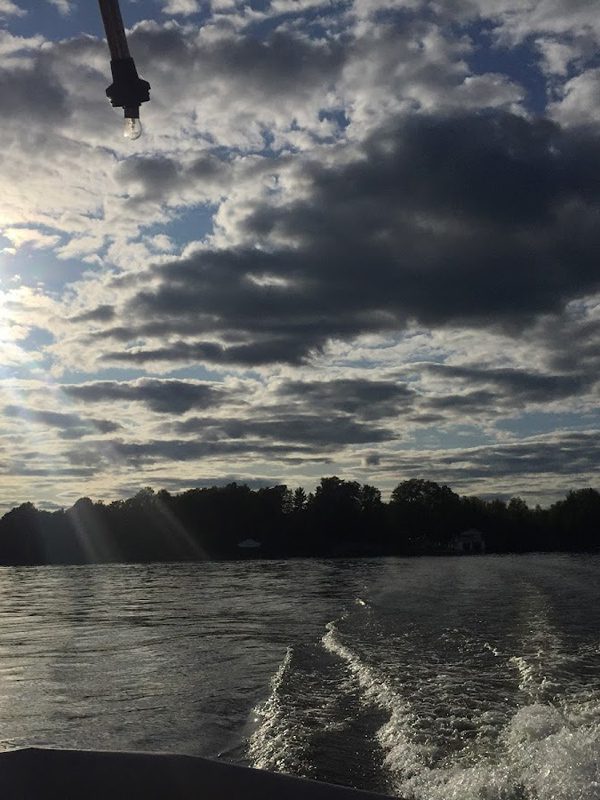 Links and Resource's Specific to Pigeon Lake